Office & Network Infrastructure
Our new facility provides an ideal and exclusive environment for creative and skilled professionals engaged in Product Engineering Services and Embedded Systems development activities. The state of the art facility, which was recently inaugurated, provides an ideal and exclusive environment capable of executing large and mission critical assignments for creative and skilled professionals. Scientifically designed and fully networked, the workspace is complete with all support services and amenities. With the best software and hardware environments coupled with high-end communication facilities, the center is fully equipped to work as virtual extensions of customers' environment.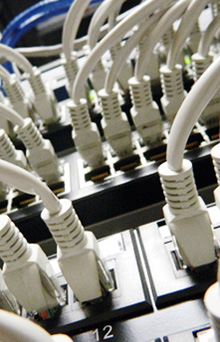 Our development center has the 'state-of-the-art' infrastructure, which includes:
Giga speed switched network of 70+ nodes.
High-end servers from Dell.
Branded workstations with latest configuration for all employers.
Highly secured hardware.
Automated backup service integrated with all servers.
State-of-the-art EPABX system and VOIP enabled services.
Uninterrupted power supply for seamless operation.
Dedicated leased data circuit for Internet usage with fail-over.
Comprehensive Intranet for Project Management, Customer Relationship Management and Internal Office communication and Knowledge Sharing.
Disaster Recovery Setup
Our Disaster Recovery plan is a tried and tested setup that ensures a unified transition through the recovery phase. It primarily helps minimize the probability of business interruptions and enables a quick resumption of normal operations following any incident that gives rise to business interruption. Backups of all data and systems are kept in geographically remote locations for disaster recovery purposes.

Network Security & Data Security
Network security is achieved by isolating the LAN segment, implementing firewalls, using secure VPNs, implementing access rights at multiple levels and timely upgrade for all virus scanners at servers and workstations.

The use of necessary firewall and other security techniques prevents unauthorized access and ensures the highest levels of data integrity and security.

IPR and Confidentiality
We have documented and implemented practices to ensure protection of intellectual property and confidentiality of customers' data and information. With every engagement, we cement the confidentiality agreements with Non-Disclosure Agreement, employee contracts & industry grade IP Security policies.
Electronic R&D Equipment
No matter how complex is the design or measurement challenge you face, our latest generation of industry-leading electronics and R&D equipment deliver impeccable performance needed to build world class embedded systems for your domain. Our electronic equipment can speed up your development by getting to the root of your embedded systems design challenges in areas like memory system validation, power supply evaluation and serial bus decode as well as efficient debugging of FPGA systems. With the state of the art laboratories at Ascenten, we help you shorten your design cycle, gain greater technical insight and improve overall productivity to bring new products to market much faster.
100 MHz, 4 Channel Tektronix Oscilloscope with floating inputs.
Power measurement and characterization chip for the Tektronix scope.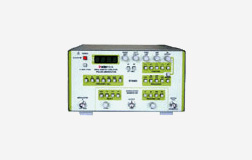 10 MHz Function-Pulse Generator with Internal & External AM (Standard & Balanced).
FM & ASK, FSK, PWM & Internal Sweep.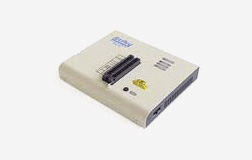 Elnec Beeprog device programmer (20k devices including CPLDs).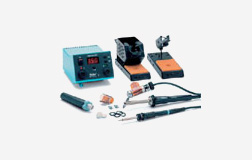 3 in 1 soldering + desoldering + hot air rework station.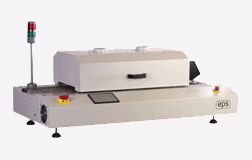 Reflow Soldering System
RF 300 SMT Reflow heating zone is programmable up to 100 profiles.
Includes a real-time temperature profiler port.
Programmable conveyor speed, heating elements hot air flow, and cooling fans.
Features SPC fault monitoring & reporting.
Pb Free process, max temperature 300 C.
Pick & Place System
Allows gross and fine X,Y,Z & Theta movement.
Innovative, movable padded hand rest design.
AutoPick feature allows easy pick-up melfs and small components.
Handles boards up to 16" x 24".
Precise Digital Dispenser with manual, semi-automatic, automatic & learn modes.
These are the additional equipment that completes our lab:
Stencil Printer
Component forming machine for axial leaded components
Smoke and fume absorber
Ultrasound PCB cleaning machine
Temperature and time controlled baking oven

Temperature controlled solder bath for manual dip soldering
Temperature controlled soldering ions
Several DMMs (Sanwa, Metravi)
Miscellaneous tools such as hot air gun (Black and Decker), hand drills, nose pliers, and cutters
Machining Equipment (leased)
Ascenten has sophisticated design, manufacturing and assembly capabilities, to meet the needs of today's industries. World class machining equipment such as Horizontal and Vertical Machining centers provide an edge in manufacturing. Our five phase CNC machining center contributes to the excellence towards the quality & productivity through head changer and multi tool ATC.
The finest Horizontal Machining Center in our mother machineries assets are capable of producing accurate components with high productivity through double pallet system. These machines have been programmed with the latest designing software.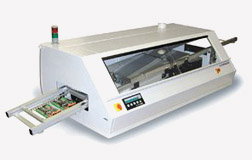 Wave Solder Machine
Automatic wave solder system.
Ready-to-go fluxing, preheating and wave modules.
Exceptional accuracy and repeatability.
Lead or Lead-Free solder compatibility.
Single and dual WSM180S) wave capability.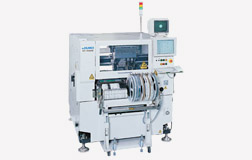 High Speed Flexible Mounter
Ultra-flexible, can place a wide range of components from 0603 and ICs, to odd-form, all at a high rate of speed.
12,500CPH: chip (laser centering/effective tact).
1,850CPH: IC (vision centering/effective tact), 3,400CPH with MNVC option.
Vision centering system: Featuring bottom, side, and back lighting, ball recognition and split recognition).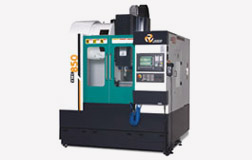 Vertical Machining Center
Thermally Stable Graded Cast Iron body  with widely spaced, heavily ribbed base and rugged sandwich structured rigid column with 3-walls.
Efficient Chip removal and coolant system.
High class 8000 rpm spindle BT-40 Spindle taper having higher rpm and torque options available.
Linear Motion guideways on all 3-Axes with High Rapid Traverse Rate @ 24 m/min.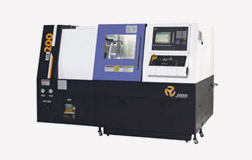 Horizontal TurnMill Center
Strategically designed Step-Up-Structure with widely spaced guide ways.
High Speed Servo Turret for faster indexing.
Higher rapid traverse rates with better accelerations.
Top notch chip disposable and coolant system.
Equipped with high speed 8 Station ServoTurret & hydraulically actuated tailstock.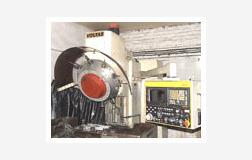 Fanuc DV-30 CNC Drill Tap Center
Equipped with manual pallet changer.

650 * 400 * 500 mm (LBH).

machining area. No. of tools: 1.
Computerized 2-plane Balancing Machine
These are the additional equipment that completes our lab:
EDM CNC Wire-cut
Automat Traub suitable for rod dia 3 to 60 mm
Annealing, Hardening, Tampering furnaces 1 cubic meter each
Tensile and Izod Impact testing equipment

Rockwell Hardness Testers
Aluminum Hard Anodizing facility
Manual Lathes, Radial Drills, Milling Machines - various types, Planning Machine, Grinding Machine, Bench Drills, Shapers
Molding Equipment (leased)
Our facility is endowed with high-performance plastic injection molds, the components of which are of highest precision and stable execution to guarantee a long and useful life. Advanced machinery and equipment ensure that the high level of precision in our molds is maintained at all times. The machine portfolio is supplemented by product-supporting services such as a wide-ranging offer of advanced technologies. Exceptional precision and repeatability, fast cycle times, high injection rates and pressure, parallel functions, and easy maintenance are the hallmarks of our injection molding machines.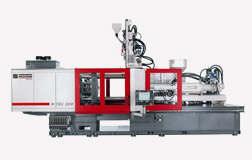 High Productivity Molds
Intuitive controls via large 15" touch screen terminal.
Graphic menu controls.
Easily editable mold sequence.
Detailed process monitoring with tolerances, minimum and maximum values, average, and standard deviation.
Ethernet interface, USB memory key for storing mold data.
Password protected access levels ensure security.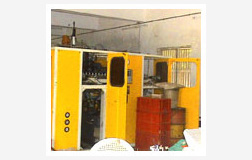 PET Stretch Automatic Blow Molding Machine
Suitable for 30 ml to 1 Litre PET bottles.
All equipment and machines owned or leased upon demand are leading edge and have been selected after a meticulous evaluation so that the operations remain unperturbed at any time. Documented procedures have been developed in-house to service and maintain sensitive equipment so that consistent results are obtained throughout its life span. Continuous investment in quality equipment shows our sense of dedication and commitment to attain superiority an all levels of engineering. Our relentless pursuit for perfection at every stage enables us to provide on-time delivery.